For modern brides, the perfect engagement ring is a reflection of their unique personal style. With so many different styles available, it can be difficult to choose one that speaks to you and your aesthetic.
From traditional solitaires to intricate vintage-inspired designs, there is something for every bride looking for a beautiful symbol of love. Whether you are searching for an understated classic or ornately embellished statement piece, these unique engagement rings will help make your special moment truly memorable.
Vintage-Inspired Engagement Rings
For a bride looking for something timeless and classic, vintage-inspired engagement rings can offer the perfect blend of traditional styles with modern design. These elegant pieces feature intricate details such as filigree designs and milgrain edging that will capture your heart.
From Art Deco to Victorian-inspired bands, there is an endless array of romantic designs to choose from. Whether you prefer a solitaire or three-stone ring, these unique heirloom quality pieces are sure to become treasured family keepsakes.
With their delicate beauty and charm, vintage-inspired rings are the perfect way for a bride to make her special day even more memorable.
Geometric Shapes and Abstract Designs
When it comes to finding the perfect engagement ring for the modern bride, unique geometric shapes and abstract designs are often top of mind. These elements can add an air of sophistication and elegance to any ring, while also serving as a reminder that you've chosen something truly special.
From traditional round cuts with sharp edges to iconic princess-cut or emerald-shaped diamonds set in unusual settings, there's no shortage of options when it comes to creating a one-of-a-kind piece. If youre looking for something even more bold and daring, consider pairing bright sapphires with intricate designs featuring intertwining lines or curves.
Alternatively, go for something completely abstract like an asymmetrical setting full of unexpected angles and color variations – sure to stand out from the crowd!
Halo Settings for Maximum Sparkle
When it comes to unique engagement ring styles for the modern bride, many settings offer maximum sparkle. Halo rings feature a center diamond surrounded by smaller stones, creating a dazzling effect with every turn of the hand.
Whether opting for an oval or round shape, halo settings can be customized to fit any taste – from classic and timeless solitaire designs to more intricate pave and split-shank styles. To add even more brilliance, opt for diamonds in different cuts such as princess or baguette shapes. Further embellishment can be achieved with custom engravings on either side of the band which create beautiful reflections in light.
No matter what style you choose, a halo setting is sure to add an extra touch of elegance and glamour to your special day – maximizing sparkle for the perfect proposal!
Mixed Metal Combinations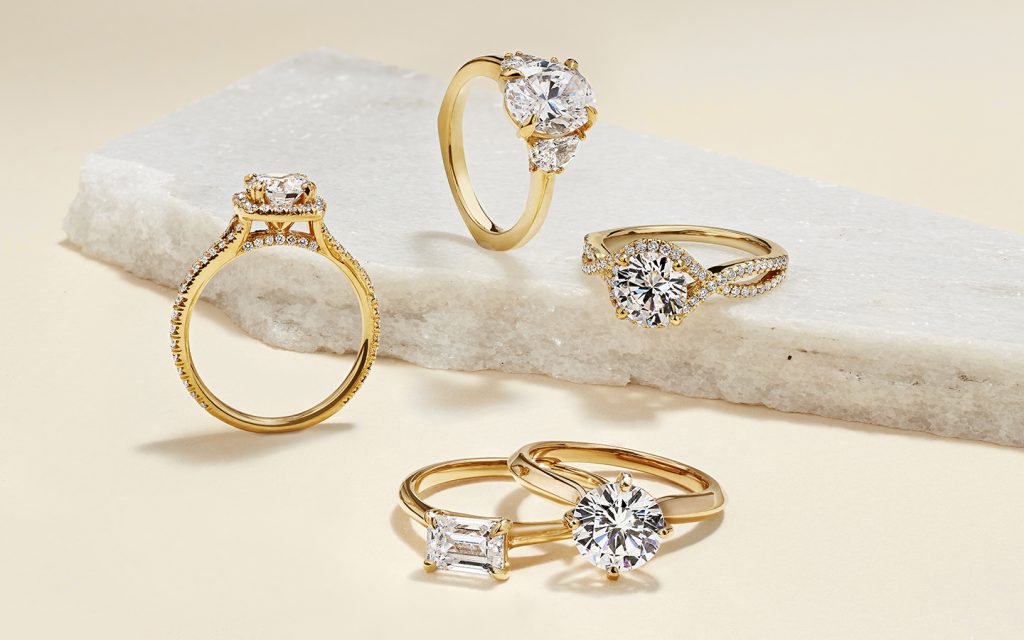 Modern brides are embracing unique engagement ring styles with mixed metal combinations. White gold and rose gold, yellow gold, and platinum or silver – all these can be blended for an eye-catching effect.
From solitaire rings to three stone, halo designs to intricate vintage pieces – each combination of metals adds a unique texture and look that is truly special. Modern materials such as tungsten, cobalt, and titanium can also be used in creative ways for an even more contemporary feel.
Whether it's mixing classic colors like white and yellow gold or going bolder with a striking contrast between rose gold and silver – the options are almost limitless when it comes to creating your style. With so many possibilities available at hand, there's no reason why you shouldn't have a one-of-a-kind engagement ring perfectly tailored to your personality!
Conclusion
Engagement rings are becoming more and more unique in style with each passing year. For the modern bride, there are a variety of exciting options that can express her personality.
From vintage designs to contemporary pieces, Engagement Rings Manchester has a wide selection of styles for the modern bride to choose from. Whether she prefers an elegant solitaire or something bolder and brighter, these special rings will make sure her engagement stands out and is truly unforgettable.